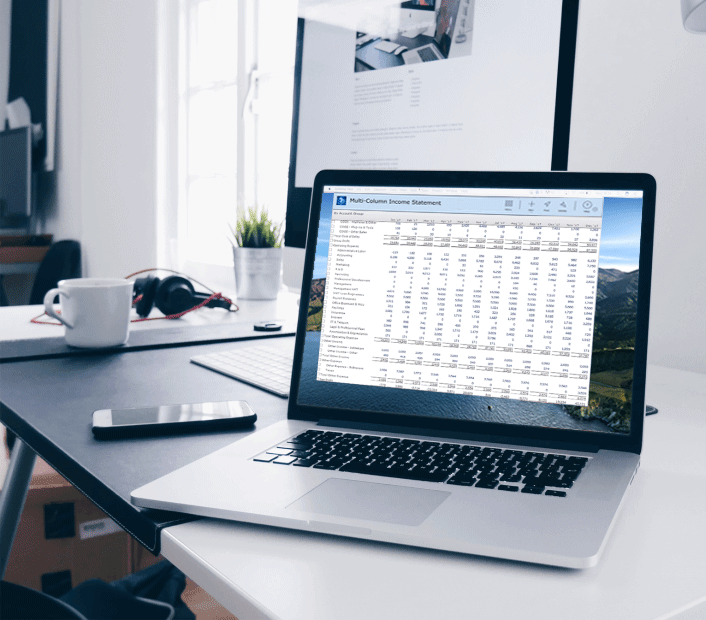 IT'S ABOUT CONTROL
Made for FileMaker
With Genesis Accounting, you get a flexible, proven, general-application accounting solution that integrates seamlessly with your other Claris apps to provide all the accounting capabilities your business needs to run smoothly:
General Ledger
Accounts Receivable
Accounts Payable
General Journal
Bank Reconciliation
Financial Statements
Designed by accounting professionals and Claris experts who know from deep experience what it takes to run a business, Genesis Accounting is the most robust accounting package available for the Claris platform.
Together with Genesis Business Metrics and Genesis Transactions, Genesis Accounting forms the cornerstone of the full Genesis suite.
Flexible accounting for the way
you run your business
Every business is unique, but accounting is largely constant. We configure Genesis Accounting to serve your specific needs, giving you one integrated solution to streamline workflows throughout your organization while retaining accountability and management control. Genesis Accounting allows you to tailor your Claris FileMaker solutions to your needs while knowing your accounting is rock solid.
Customize with FileMaker
Use Genesis Accounting right out of the box, and adapt it to your business with all the capabilities of the Claris FileMaker platform.
Integrate with your Solutions
Use Genesis Accounting with Genesis Financial Suite or integrate seamlessly with your own existing Claris FileMaker solutions.
Connect Other Technologies
Work with other business apps and fold it into a broader technology mix using industry-standard APIs.
Explore Genesis Accounting...
Out-of-the-box accounting, out-of-this-world flexibility
Explore Genesis Accounting...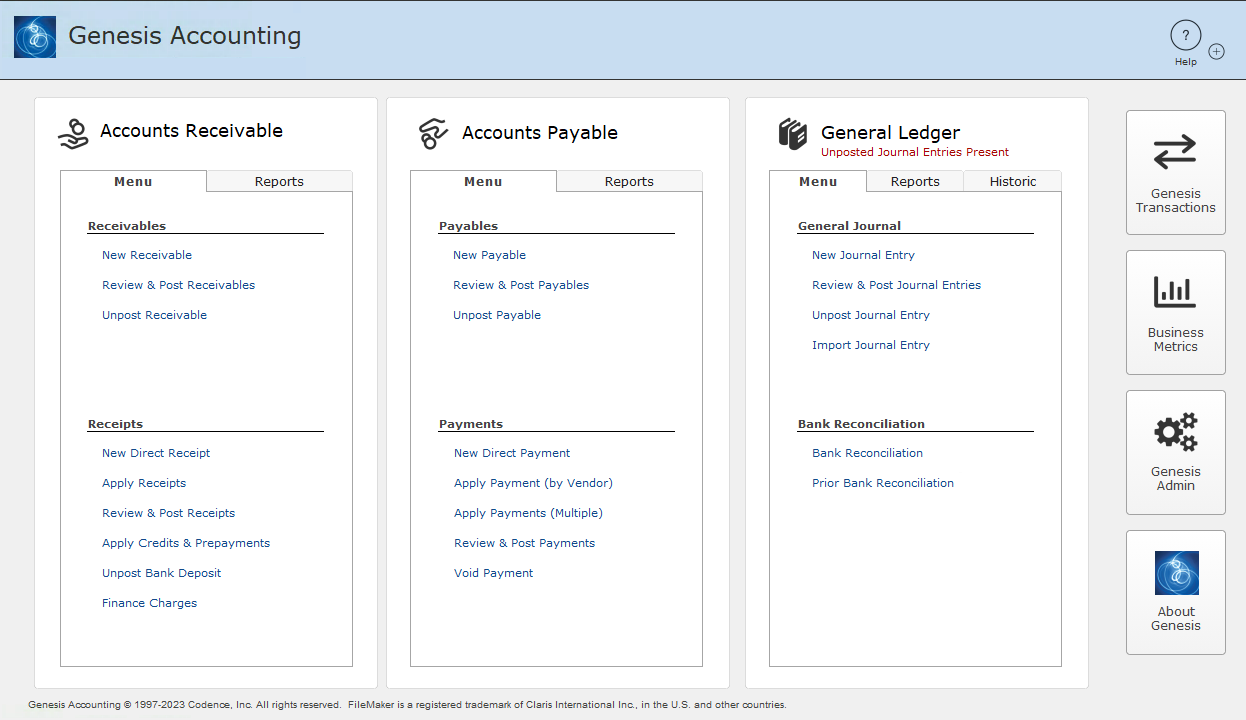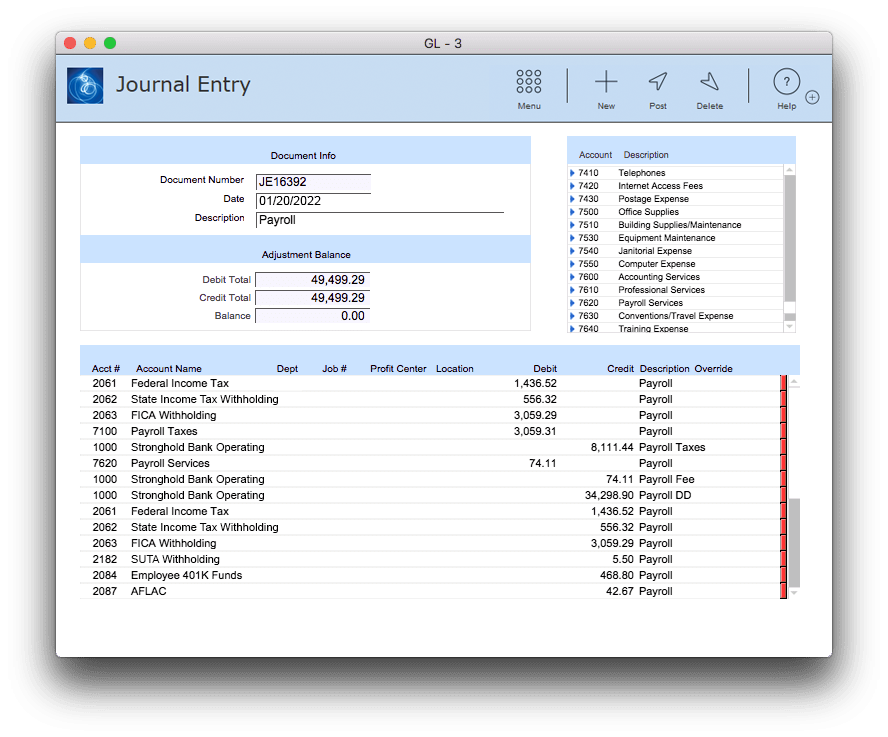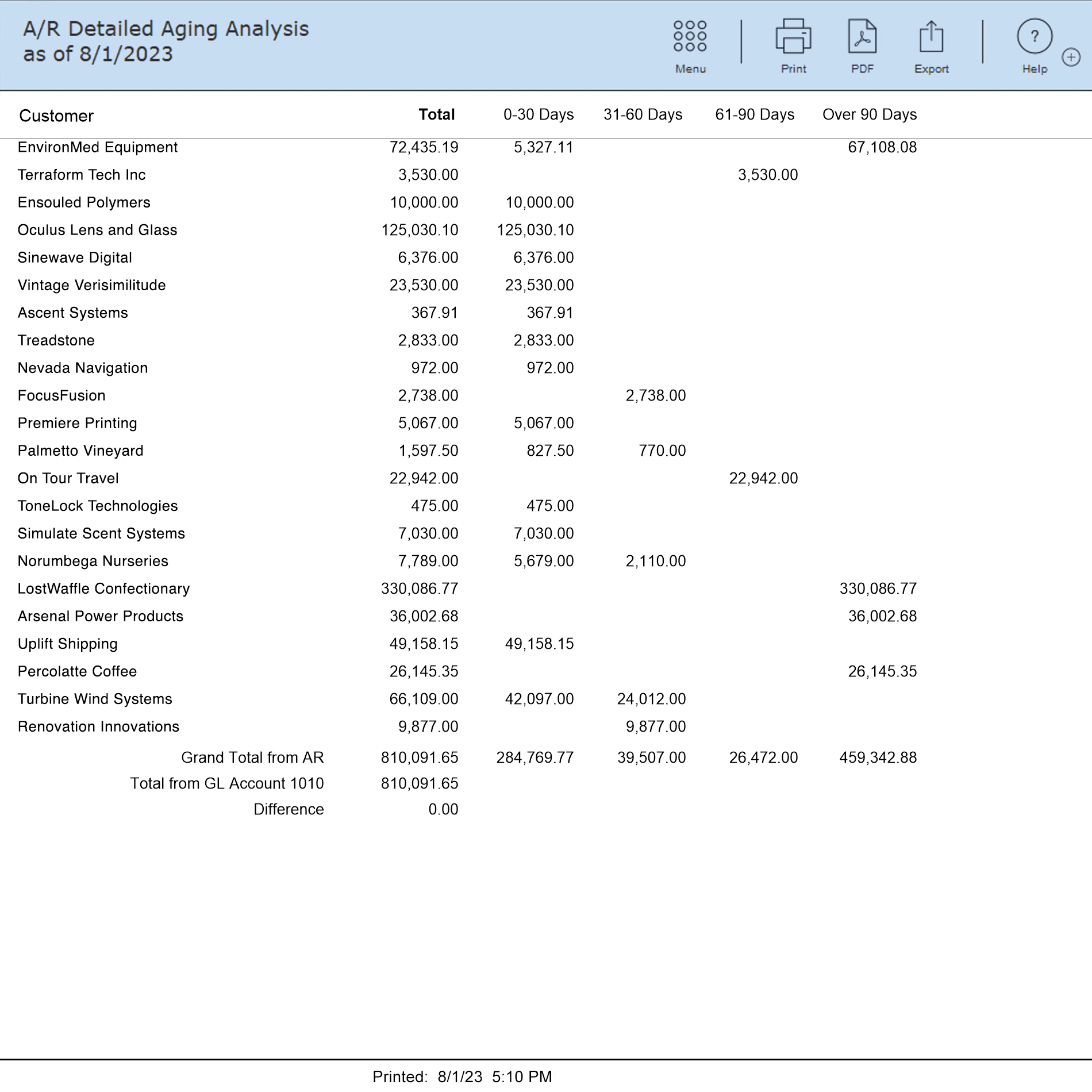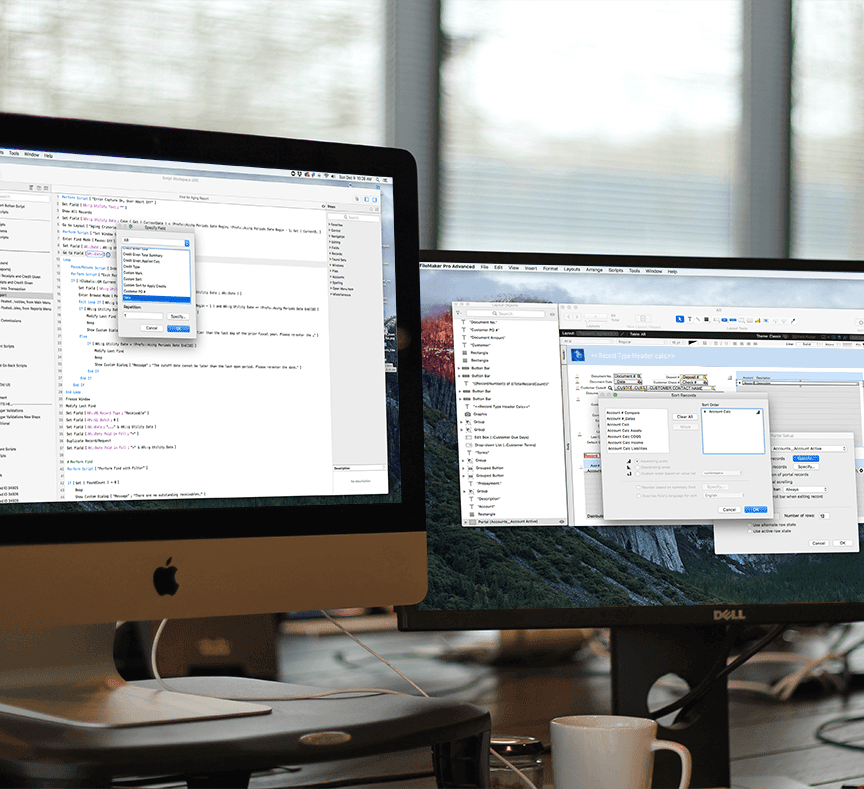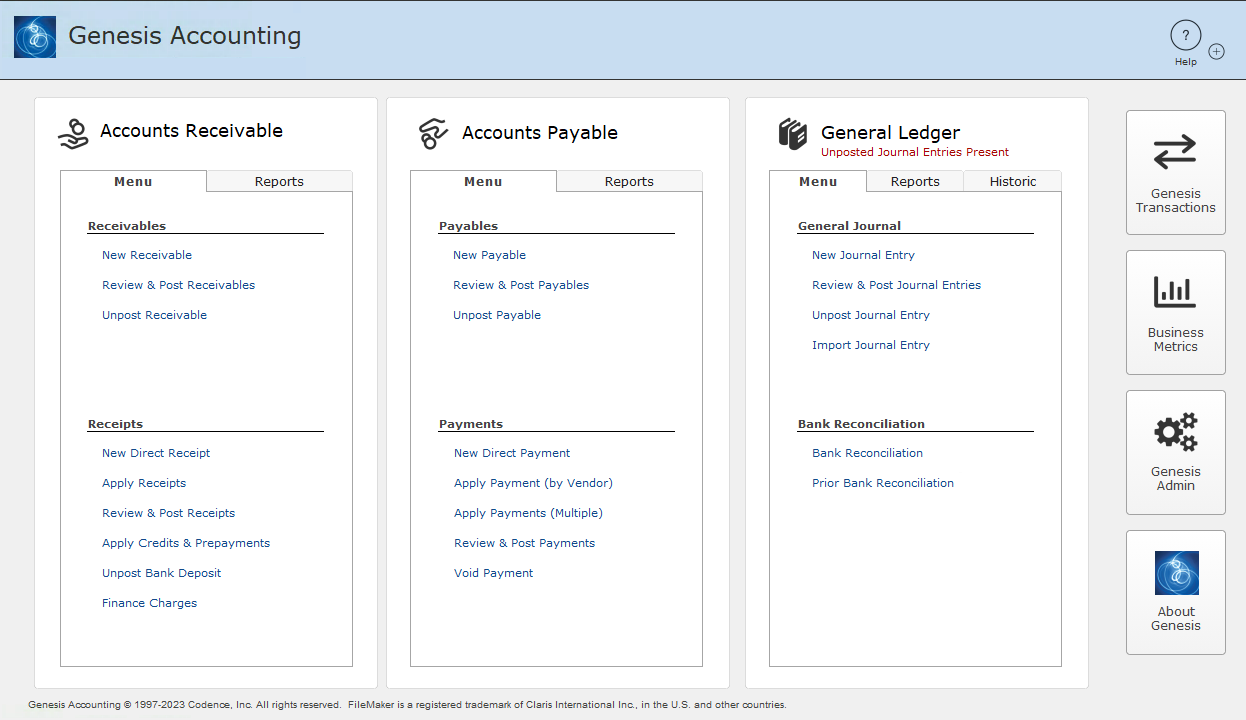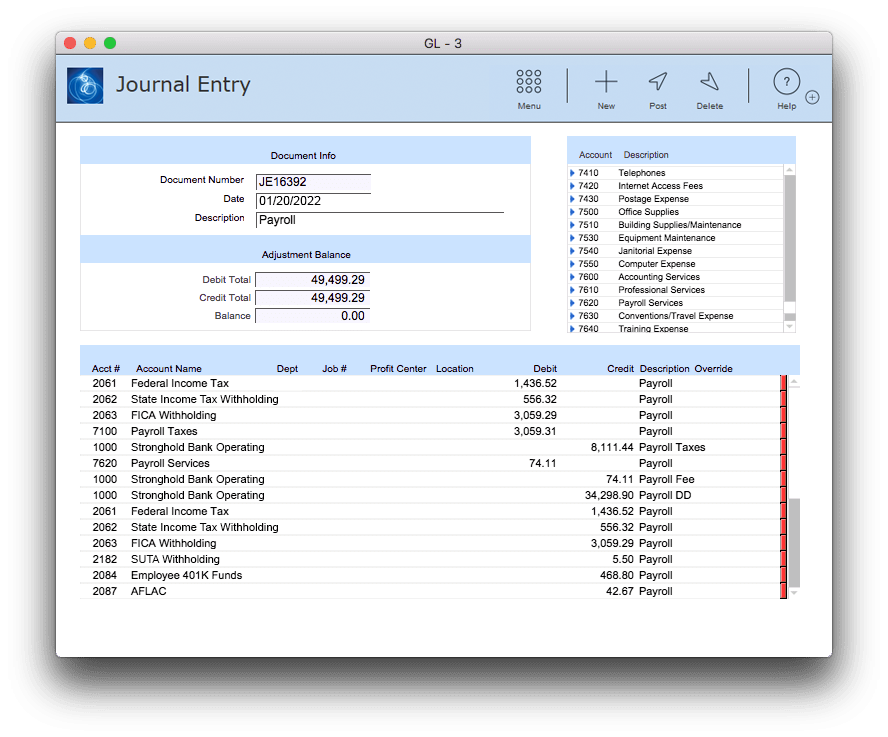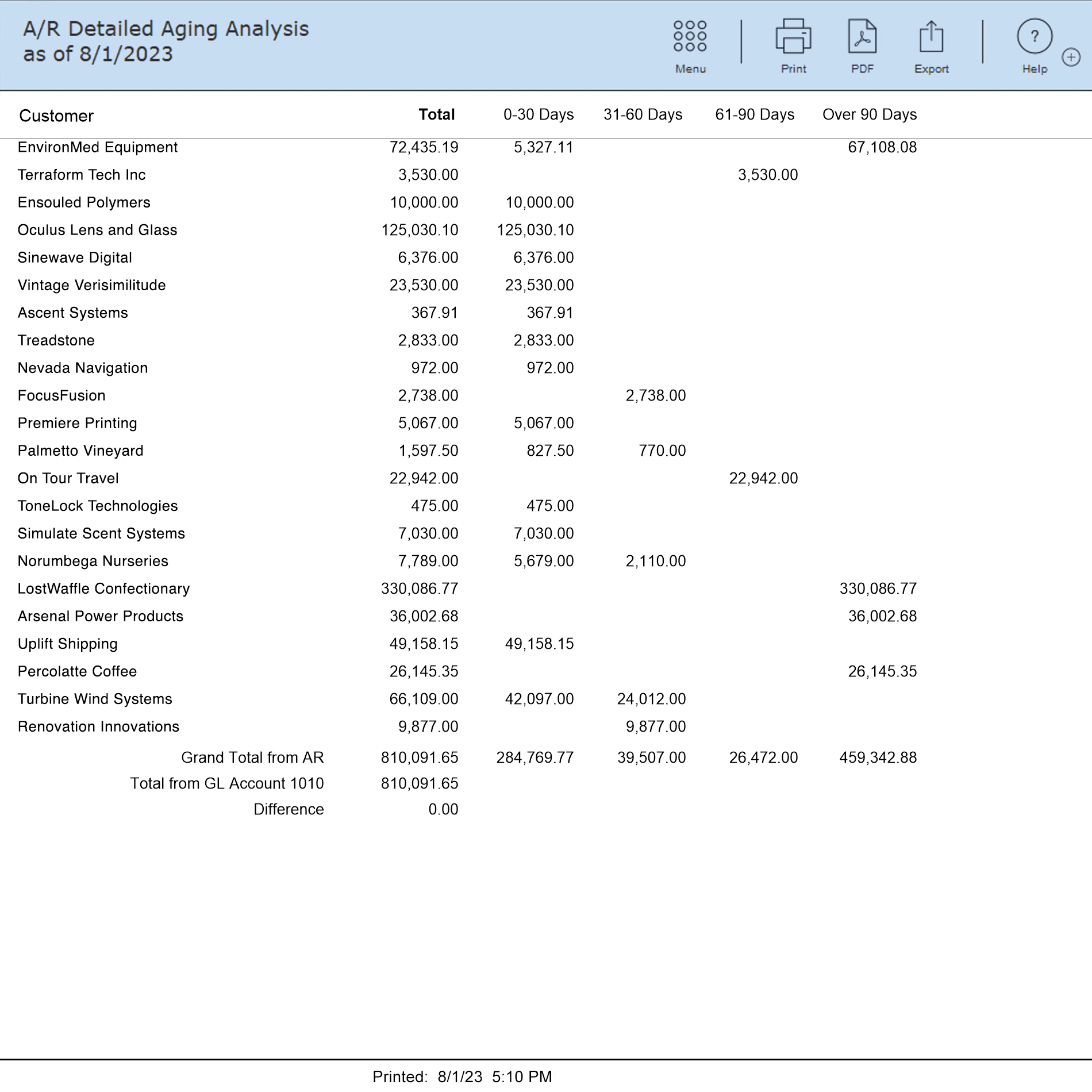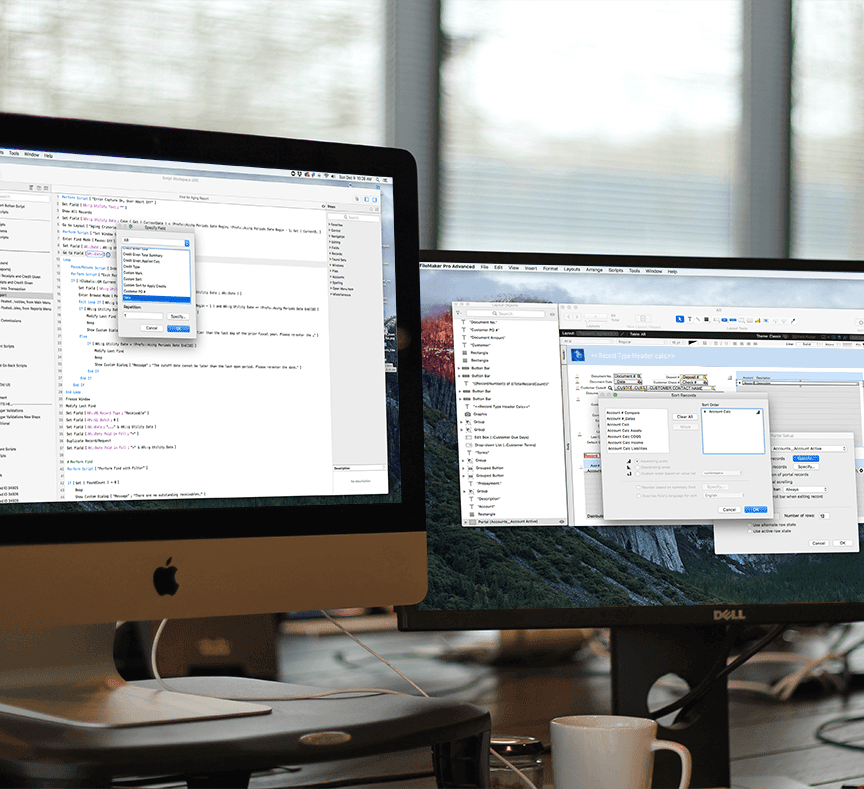 Leverage Claris FileMaker – the world's leading Workplace Innovation Platform
Drive change with your own custom apps.
The FileMaker platform can help your team break out of "the work rut" by delivering custom apps that replace manual processes, save you from death-by-spreadsheet, and reimagine cumbersome workflows.
Secure your data and take control by managing who has access to what. Host in the cloud or on your own server.
We're Claris FileMaker experts, through and through.
We've been developing Claris FileMaker apps for decades. We've spoken at conferences, written books, delivered training, and created plug-ins.
Codence was one of the first teams invited into the Claris FileMaker Business Alliance, and we're proud to be a Claris Platinum Partner to this day.
All the Accounting Functions You Need
General Ledger
Flexible searching and reporting, drill down into GL detail directly from financial statements; work with up to 18 open months, lock prior months by sub-ledger as desired; view archived data easily.
Accounts Receivable
Enter directly in AR or post from your front-end Claris FileMaker file; create and apply prepayments, make bank deposits; reports include Aging Detail, Aging Summary and Transaction History.
Accounts Payable
Enter directly in AP or post from from your front-end Claris FileMaker file; print checks; make electronic payments; reports include Aging Detail, Aging Summary and Transaction History.
General Journal
Create Journal entries directly or import them from Excel; post them automatically from your front-end Claris FileMaker solution or from Genesis Transactions.
Bank Reconciliation
Easy to use bank reconciliation, work with unlimited bank accounts; review previous reconciliations, reconcile any account (such as credit cards).
Financial Statements
Standard Income Statements and Balance Sheets, plus more detailed P&L's by profit center; twelve month or comparative income statements; drill down directly from financial statements to underlying transactions.
Explore Genesis Today
Speak to one of our expert consultants about Genesis Accounting today. During this free consultation, we'll address your questions, learn more about your business, and make some immediate recommendations.